True Religion growing existing wholesale business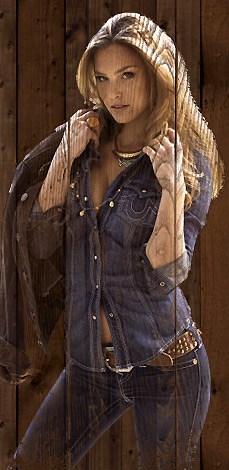 True Religion 2008
By Alexandria Sage
LAS VEGAS, Aug 26 (Reuters) - Premium jeans brand True Religion Apparel Inc is focused on increasing its penetration into existing retail accounts, given recent record-breaking sales trends, the company's chief financial officer said on Tuesday.
The company, whose jeans can retail for as high as $300 in specialty boutiques and major department stores such as Saks Inc and Nordstrom , is not actively seeking new wholesale accounts, given the possibility of brand dilution, said Pete Collins, chief financial officer of the Los Angeles-based brand.
"It's not new accounts, it's penetrating what you've got," Collins told Reuters, speaking at the Project apparel trade show in Las Vegas, where the company has a booth where buyers peruse new styles and place orders.
"Once you start doing that (expanding too broadly) you lose the cachet of the accounts you've got. We're committed to staying at that (high) tier," Collins said.
The young brand that began making jeans with a horseshoe on its back pocket in 2003 posted sales growth of 79 percent in its most recent quarter.
Some 45 accounts make up the bulk of its U.S. wholesale business, which now represents some 60 percent of True Religion's total sales.
The company expects that percentage will decline to 45 percent of total sales beginning in 2011, when it will have approximately 80 of its own stores.
Brean Murray Carret analyst Eric Beder, who has a "Buy" rating on the company, said the strategy of focusing on existing wholesale accounts makes sense.
"They want to be an exclusive brand," he said. "To be an exclusive brand, you have to be exclusive."
As True Religion grows its U.S. store base -- there are now some 34 stores open, with a target of 39 by year's end -- it can show its large wholesale accounts what is selling well in its own stores and convince them to carry those items, Collins said.
"It's an easier sell," he said.
In the meantime, the company is focused on getting more jeans into its existing department store accounts. On average, those retailers carry some ten styles of men's or women's jeans, although the company makes many more.
Growth in sportswear has been a priority for the company -- the category makes up about 27 percent of sales at its own stores, but represents only about 10 to 15 percent at wholesale -- but the company has pulled back on its prior focus of getting its wholesale accounts to carry more sportswear items along with jeans.
"We'd rather see them buy more of the jeans," Collins said, adding that the company had decided not to "get ourselves worked up about it having to come from sportswear."
Sportswear, whether hoodies, T-shirts or other trendy items, carries lower retail prices than jeans, but the same profit margins, Collins said.
There is more than enough room to grow True Religion's wholesale business at existing accounts, said Beder.
"I think they are underpenetrated in denim. There is an opportunity there," he said.
Denim on offer at the trade show included jeans with studs and leather patches on back pockets, jeans with multicolored stitching, and the "Gold Disco" available next year, a jean embellished with gold-colored crystals.
True Religion is also incorporating more stretch denim into its women's jeans line.
"On the women's side, it will be a significant part of our business," Collins said. (Editing by Gary Hill)
© Thomson Reuters 2022 All rights reserved.