(Reuters) - Discounter Target Corp (TGT.N) signaled it may continue to see better same-store sales growth than larger rival Wal-Mart Stores Inc (WMT.N), even as U.S. consumer sentiment remains soft.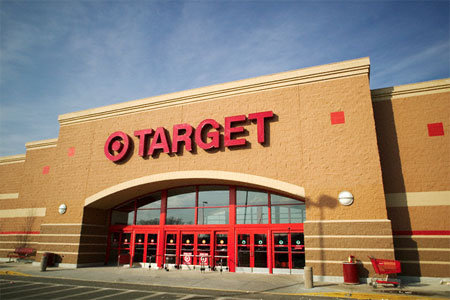 Photo : Corbis
Target, whose shares rose 2.8 percent on the forecast, has lured shoppers with a bigger selection of fresh foods and exclusive fashion brands that carry higher margins.
The company also suggested on Wednesday that it could meet Wall Street profit expectations through the end of the year, allaying investor concerns over its ability to navigate through a slow economic recovery that has pressured the retail industry.
By contrast, warehouse club operator BJ's cut its earnings forecast for the year on Wednesday, and discount leader Wal-Mart said on Tuesday that same-store sales could fall in the third quarter.
BJ's Wholesale Club Inc (BJ.N) shares fell 3.1 percent, while Wal-Mart slipped 0.1 percent.
"Compared to competitors, Target's comp estimates are looking stronger than Wal-Mart's and BJ's, rightfully so, as they are experiencing stronger traffic," Wall Street Strategies analyst Brian Sozzi said.
Target said it expects same-store sales to increase 1 percent to 3 percent in the third quarter and be up slightly more in the fourth quarter, which includes with the key holiday shopping season.
The retailer said fourth-quarter sales will be helped by a new rewards program that gives Target credit and debit card holders 5 percent discounts when they use the cards.
Retail executives have been cautious in their sales forecasts as consumers cut back on spending amid high unemployment and a sluggish economy. After slashing costs and jobs during the depths of the recession, some retailers are struggling to shore up profits.
"We're kind of in this period where easy comparisons are largely gone and there's still some sluggishness in the economy that's causing the same-store sales numbers to decelerate," Edward Jones analyst Matt Arnold said.
TARGET PROFIT UP, BJ'S CUTS FORECAST
Target Chief Financial Officer Douglas Scovanner said analysts' average earnings forecasts of 68 cents a share in the third quarter and $1.38 in the fourth quarter were "responsible single-point estimates."
Target's second-quarter profit rose 14 percent to $679 million, or 92 cents a share, meeting analysts' average estimate, according to Thomson Reuters I/B/E/S.
Earlier this month, Target reported sales of $15.13 billion for the quarter at its retail business, up 3.8 percent from a year earlier. Sales at stores open at least a year rose 1.7 percent, below its forecast for a rise of 2 percent to 4 percent.
Revenue, which includes credit card revenue, rose 3.1 percent to $15.32 billion.
BJ's, the No. 3 U.S. warehouse club operator, said second-quarter profit was $35.8 million, or 67 cents a share, well below the 73 cents a share expected by Wall Street.
The company said earnings were cut by about 3 cents a share by the impact of Wal-Mart's massive price rollbacks during the quarter. Price cuts by rival grocers pushed BJ's to follow suit, CFO Frank Forward said during a conference call with analysts.
BJ's cut its full-year earnings forecast to a range of $2.40 to $2.50 a share, compared with analysts' average estimate of $2.67.
The weak forecast and disappointing earnings come as BJ's faces pressure from a private equity investor who thinks the company's shares are undervalued.
In July, a fund run by private equity firm Leonard Green & Partners said it had taken a 9.5 percent stake in BJ's and that it might propose taking the company private.
BJ's expects full-year same-store merchandise sales to rise 2.5 percent to 4.5 percent, down for its previous forecast of 2.7 percent to 4.7 percent.
(Reporting by Brad Dorfman; Editing by Michele Gershberg, Derek Caney and John Wallace)
© Thomson Reuters 2022 All rights reserved.