Sears sees profit above estimates
Published
today
Jan 7, 2010
Sears Holdings Corp (SHLD.O) posted a slight rise in December same store sales, driven by Kmart, and forecast fourth-quarter earnings ahead of estimates.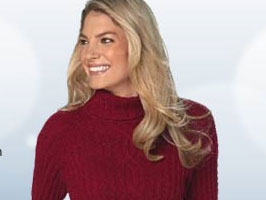 Womenswear at Sears - Photo: www.sears.com
The company, which has built a reputation for selling affordable home goods, said it expects to earn between $385 million and $465 million, or $3.36 a share and $4.06 a share, for the fourth quarter ending January 30.
Analysts on average were expecting Sears to earn $2.65 a share, according to Thomson Reuters I/B/E/S.
For December, Kmart same store sales rose 5.3 percent, while total comparable sales grew 0.4 percent.
Better sales of toys, home and apparel goods helped Kmart comparable sales for the month, as did its footwear business.
In January last year, Kmart took back its shoe operations from Footstar, which operated within the discount chain's stores but used its own inventory and staff.
Sears shares had closed at $88.87 Wednesday 6 January on Nasdaq.
(Reporting by Nivedita Bhattacharjee in Bangalore; Editing by Ratul Ray Chaudhuri)
© Thomson Reuters 2019 All rights reserved.