Guess' Q4 profit slips, silent on 2010 outlook
Published
today
Mar 17, 2009
SAN FRANCISCO, March 17 (Reuters) - Apparel maker Guess Inc (GES.N) posted a sharp slide in quarterly net profit as impairment charges from retail stores and markdowns more than offset higher sales of trendy items.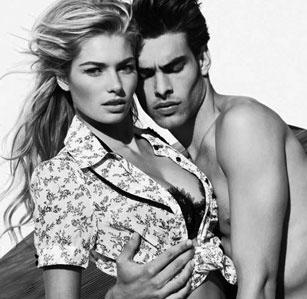 Guess Spring - Summer 2009
Guess said on Tuesday it would not provide a fiscal 2010 profit or sales outlook because of global economic volatility, though it said current conditions were likely to persist for the foreseeable future.
For the first quarter of fiscal 2010, Guess said it expects adjusted earnings of 26 cents to 30 cents on revenue of $425 million to $445 million.
The retailer and wholesaler, which sells apparel, clothing and accessories, said net profit in the fourth quarter fell 13 percent to $47.9 million, or 52 cents per share, from $55.2 million, or 59 cents per share, a year earlier.
Its shares dipped about 2 percent in after-hours trade, after gaining more than 3 percent in the regular session.
But excluding a $22.3 million asset impairment charge related to North American and Asian stores, the company reported earnings of 67 cents per share -- up 14 percent from a year earlier.
Chief Executive Paul Marciano cited moves to lower inventory, streamline operations and cut back on its store openings. Guess had been expecting adjusted earnings of 50 to 55 cents per share.
The firm's results had been boosted by a lower tax rate, though currency exchange fluctuations cut into profit. Operating profit margins fell in the quarter, due in part to higher markdowns.
Revenue rose 9 percent in the quarter to $561 million, above Wall Street's estimate of $528.6 million. The company's North American retail stores saw a 6.5 percent revenue gain, while wholesale segment revenues rose 7.5 percent. In Europe, revenue rose 18 percent, Guess said.
Guess shares fell 2 percent to $15.30 in extended trading, after closing up 3 percent at $15.65 on the New York Stock Exchange. (Reporting by Alexandria Sage; Editing by Richard Chang, Phil Berlowitz)
© Thomson Reuters 2019 All rights reserved.