Douglas first quarter profit rises 9.2%, keeps outlook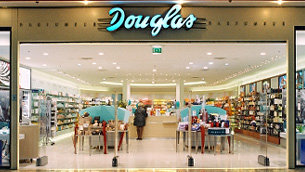 Douglas
FRANKFURT, Feb 9 (Reuters) - German fragrance-to-fashion retailer Douglas (DOHG.DE) saw good christmas shopping boost first quarter net profit 9 percent to 96.3 million euros despite consumers' reluctance to splash out on make-up and perfumes.

Douglas said on Tuesday 9 February it still expects 2009/10 sales to grow by up to 2 percent and sees earnings before tax (EBT) at between 120 million euros ($163.9 million) and 130 million, up from 104 million in the past year.
"In consideration of the ongoing difficult economic considitons, we are quite satisfied with our first quarter sales and earnings performance in Germany. However rough waters lie ahead in some foreign markets due to tough economic times," Chief Executive Henning Kreke said.
Official data showed last week that euro zone retail sales were flat in December, traditionally one of the busiest months of the year, suggesting consumer demand remains weak and the economic recovery fragile.
Earnings before tax for the three months to end-December rose to 141.7 million euros from 133.1 million in the same period last year boosted by good christmas sales and beating the average estimate in a Reuters poll of 130 million euros.
Douglas shares were indicated 0.3 percent higher, according to pre-market data, leading the market which is indicated down 0.3 percent.
The shares trade at about 15 times 12-month forecast earnings, at a discount to glasses and contact lens retailer Fielmann (FIEG.DE), which trades at a multiple of about 19, according to Thomson Reuters StarMine.
StarMine weights analyst estimates according to their track record.
(Reporting by Eva Kuehnen)
© Thomson Reuters 2022 All rights reserved.