Douglas counts on indulgence to prop up 2010 profit
By Eva Kuehnen

DUESSELDORF, Germany, Jan 13 (Reuters) - German fragrance-to-fashion retailer Douglas Holding AG (DOHG.DE) is counting on consumers' appetite for indulgence to prop up earnings this year.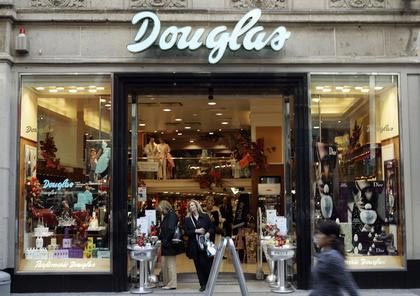 Photo: dpa
"As last year demonstrated, even in times of financial hardship people still like to occasionally treat themselves or others by indulging in a touch of luxury," Chief Executive Henning Kreke told the company's annual news conference on Wednesday 13 January.
The group expects 2009/10 sales to grow by up to 2 percent and sees earnings before tax (EBT) at between 120 million euros ($174.6 million) and 130 million, up from 104 million in the past year, it said after recording a slight rise in its first quarter to the end of December.
Douglas benefited in Germany from strong demand for classic Christmas gifts such as books, jewellery, watches and perfumes, while its international business took a hit from the crisis.
"Although the impact of the economic crisis is still palpable, we produced a respectable start into the new fiscal year and are not dissatisfied with the performance of the first quarter and the holiday season sales as a whole," Kreke said.
SALES DOWN
Despite signs of economic recovery across Europe, some German retailers are struggling to emerge from a deep recession as shoppers worry about job prospects and look to pay off debt.
A worse-than-expected 5 percent contraction in Germany's economy last year added to such concern.
Germany's
Metro
AG (MEOG.DE), the world's third-largest retailer, on Tuesday 12 January reported a larger-than-expected 3.4 percent drop in fourth-quarter sales.
Overall, Christmas sales -- which make up a large chunk of retailers' annual profits -- are seen to have fallen 1.5 percent in Germany, German retail association HDE said.
In Britain, however, a string of store groups have posted healthy Christmas sales as shoppers take advantage of low mortgage rates to treat themselves.
The economic downturn hit Douglas particularly hard in Spain, Portugal, the Baltic states and Hungary. The retailer reacted by closing 50 underperforming stores, which ate into its 2008/09 profits by 24 million euros.
Full-year earnings before tax fell 30 percent to 104 million euros and were in line with Douglas' own forecast. It proposed to pay out an unchaged dividend of 1.10 euros per share.
Douglas CEO Kreke said the retailer was considering a withdrawal from some international markets, but a decision on where and when had not yet been taken.
Douglas shares were unchanged at 33.355 euros by 1158 GMT, in line with a flat German mid-cap index .MDAXI.
The shares trade at 16 times 12-month forecast earnings, at a slight discount to glasses and contact lens retailer Fielmann (FIEG.DE), which trades at a multiple of 18.4, according to Thomson Reuters StarMine. StarMine weights analyst estimates according to their track record.
Douglas is due to report full first-quarter results on Feb. 9. (Editing by Michael Shields and David Holmes) ($1=.6873 Euro)
© Thomson Reuters 2022 All rights reserved.