Charlotte Russe to initiate co sale process
Published
today
Mar 12, 2009
March 12 (Reuters) - Women's-apparel retailer Charlotte Russe Holding Inc (CHIC.O) said it has asked its financial adviser to initiate the process for the sale of the company as part of its review of strategic alternatives.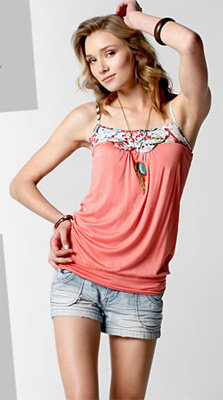 Charlotte Russe spring-summer 2009
In January, the company had said it was exploring strategic options including a sale of the company and that it had received "potential expressions of interest from third parties."
"The sale process will enable the company to obtain formal indications of interest from potential buyers," it said in a statement.
Cowen and Co is acting as the company's financial adviser.
In November, Charlotte Russe had received a buyout offer from its shareholder KarpReilly Capital Partners LP, which had offered to take the retailer private in a deal valued at about $198.6 million.
But the offer was withdrawn a few days later, after the company denied the shareholder's request for access to due diligence material. Shares of the San Diego, California-based company closed at $6.49 Wednesday on Nasdaq.
For related alerts, double click (Reporting by Renju Jose in Bangalore; Editing by Amitha Rajan)
© Thomson Reuters 2019 All rights reserved.