Mueller stake buy sparks Douglas ownership debate
FRANKFURT, Nov 23 (Reuters) - A little-known Bavarian drugstore chain's surprise investment in Douglas (DOHG.DE) raised prospects of a potential power struggle among the German fragrance-to-fashion retailer's key shareholders, driving its stock higher.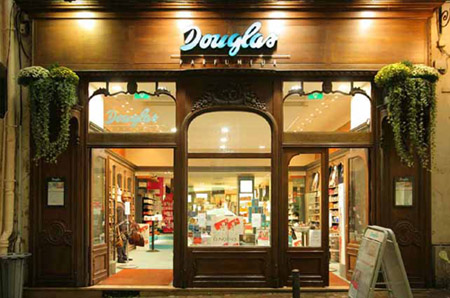 Douglas
Douglas, owner of specialist retail chains selling perfume, books and jewellery, said on Monday 23 November that drugstore entrepreneur Erwin Mueller crossed the 3 percent investment threshold, confirming remarks by Mueller to German weekly Focus.
Mueller's aim is to raise that to 18 percent, the magazine said in an unsourced report.
This raised questions about Mueller's strategy regarding Douglas' large investors, which include the Oetker group, known for its Dr. Oetker convenience-food brand.
"This might lead to speculation that majority shareholder Oetker ... will bid for the whole company," a Frankfurt brokerage said in a note to clients.
Family-owned Oetker, which runs beverage, banking and shipping businesses and holds investments in chemical companies, publishers and luxury hotels, owns almost 26 percent of Douglas.
A spokesman said Oetker did not plan to raise or lower its stake. "The Mueller investment doesn't change anything for us." Descendants of the family that founded Douglas -- split between the Ekloeh and Kreke branches -- also still own a significant stake, which analysts estimate at between 36 and 41 percent.
"It is ... very unlikely that Erwin Mueller will be able to break up the stable long-term relationship between (the) Ekloeh/Kreke (consortium) and Oetker. Therefore we currently see only very limited chance of a takeover scenario," DZ Bank analyst Holger Schwesig wrote in a note to investors.
At 1456 GMT, Douglas shares rose 6.0 percent to 33.01 euros, their highest level since January and valuing Mueller's stake at nearly 39 million euros ($58.4 million).
Mueller was not immediately available for comment and Douglas declined to discuss Mueller's plans.
'MY SUPPORTING LEG'
Focus, without citing sources, said Mueller planned to take control of 14 percent of Douglas acquired on his behalf by Swiss private bank Sarasin & Cie (BSAN.S).
Sarasin on Monday 23 November confirmed a statement by Douglas in October that Sarasin had acquired a 10.8 percent voting stake. All Douglas shares come with voting rights.
"Bank Sarasin acquired its stake in Douglas Holding on its own account and in order to hedge positions in its trading book," the Swiss bank said.
Analysts still saw a link to Mueller.
The statement by the bank was no "hard denial" of speculation it aimed to pass the Douglas share on to Mueller, LBBW analyst Bernd Muell said in a note.
"It may still be possible for Bank Sarasin to sell the shares to Mueller," he said.
Over decades, the Bavarian entrepreneur has built a hairdressing salon into Germany's fourth-largest drugstore chain with almost 2.6 billion euros in sales.
"Douglas is my second supporting leg," Mueller told Focus in an interview, adding that a cooperation between the two retailers in areas like purchasing and logistics could help create synergies.
Mueller, who prefers to finance investments as far as possible from cash flow, told the weekly magazine he definitely wanted to buy more shares in Douglas but declined to comment on the speculation about Sarasin's stake.
Douglas' group sales rose 2.2 percent to 3.2 billion euros in its fiscal year through September, it said last month.
(Additional reporting by Tom Kaeckenhoff in Duesseldorf; editing by John Stonestreet)
($1=.6679 Euro)
(([email protected]; +49 69 7565 1311; Reuters Messaging: [email protected]))
© Thomson Reuters 2022 All rights reserved.