Mueller raises Douglas stake, eyes more
FRANKFURT May 30 (Reuters) - German drugstore entrepreneur Erwin Mueller has raised his stake in fragrance-to-fashion retailer Douglas (DOHG.DE) to over 5 percent and plans to buy more, he told a magazine.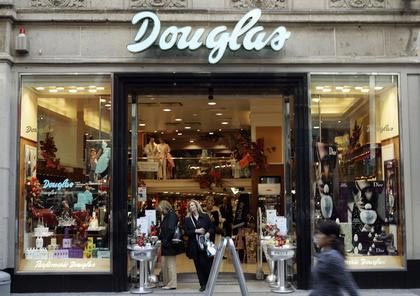 Photo: dpa
"I have raised my stake to 5.2 percent," Mueller told Germany's Focus magazine in a report released ahead of publication on Monday 31 May.
"My goal is to reach a double-digit percentage ownership position in the course of this year," Mueller said.
The magazine said Mueller's investment in the German mid-cap MDAX-listed .MDAXI company was aimed at obtaining cost savings in areas such as transport and purchasing.
Mueller's own drugstore chain numbers 600 branches around Europe and the entrepreneur is set on an international expansion strategy, the magazine said, even as Douglas retrenches from some foreign markets.
Focus had reported in November that Mueller had taken a 3 percent stake in Douglas. Within days of the report, Douglas announced that Mueller's share holding had crossed above the 3 percent disclosure threshold.
Douglas' largest shareholder is the August Oetker Finanzierungs- und Beteiligungs GmbH with a nearly 26 percent stake, while almost 39 percent of the company is in free-float, Douglas' Internet site shows.
Some analysts had speculated in November that Mueller's suprise investment might prompt Oetker to bid for the whole of Douglas, but a spokesman for Oetker said there were no plans to raise or lower the Oetker stake. (Reporting by Jonathan Gould; Editing by Hans Peters)
© Thomson Reuters 2022 All rights reserved.