Ecuador trade move would hit $4.3 bln of imports
GENEVA, April 7 (Reuters) - Ecuador's measures to restrict imports to defend its balance of payments would affect $4.3 billion of its 2008 imports, or 23 percent of the total, according to a World Trade Organisation report.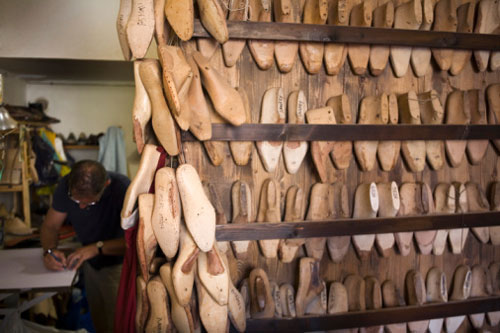 Importing shoes to Ecuador will cost an extra $10 a pair
The report, dated April 6 and published on the WTO website, was drawn up in preparation for a meeting on April 22 of the WTO's Committee on Balance of Payments Restrictions, where Ecuador will seek a temporary waiver from WTO rules.
Ecuador, whose trade balance has been battered by the global recession, imposed the restrictions in January on imports from Colombian bubblegum to Chinese shoes.
The move has strained relations with its Latin American trading partners, and Quito threatened last month to withdraw the world's largest banana exporter from the four-nation Andean trade bloc CAN if they reject its move.
CAN also includes Colombia, Peru and Bolivia.
The restrictions cover 8.7 of products imported into Ecuador, with some goods attracting an additional tariff of 30 or 35 percent of value.
Textiles and clothing will pay an extra duty of $12 a kilo, while shoes will pay an extra $10 a pair.
For other products Ecuador has imposed import quotas of 65 or 70 percent of the 2008 value.
The WTO report lays out the impact on exports of Ecuador's major trading partners, and on products.
1. EXPORTS OF TRADING PARTNER (2007 FIGURES) AFFECTED BY MEASURES COUNTRY 2007 EXPORTS AFFECTED SHARE OF THAT COUNTRY'S
2007 EXPORTS TO ECUADOR Colombia $575 million 38.6 pct China $475 million 42.3 pct U.S. $303 million 10.8 pct Peru $147 million 30.6 pct Chile $167 million almost one third Source: WTO
2. MAIN PRODUCTS AFFECTED PRODUCT EXPORTER 2007 EXPORT VOLUME trucks Japan $213 mln cars South Korea $197 mln trucks Thailand $172 mln cars Japan $135 mln cars Colombia $59 mln trucks Colombia $51 mln motorbikes China $40 mln television sets Panama $39 mln shoes China $38 mln radio sets Panama $36 mln toilet paper, tissues Colombia $35 mln apples and pears Chile $33 mln food preparations Chile $32 mln Source: WTO (Reporting by Jonathan Lynn; Editing by Stephanie Nebehay)