Deal struck to air "Project Runway" on Lifetime
NEW YORK (Reuters) - Reality TV show "Project Runway" will air on cable network Lifetime Television after show producer The Weinstein Co. agreed to pay NBC Universal to move the series from its Bravo cable network.
The show -- in which fledgling fashion designers compete for money to launch their own clothing line -- has been one of Bravo's top-rated shows, averaging 4 million viewers.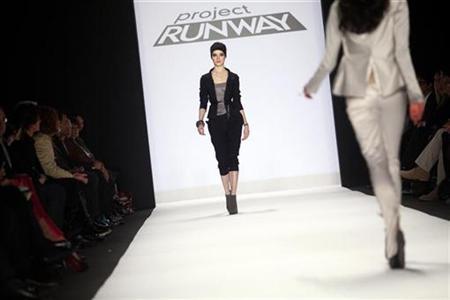 But in April last year, Weinstein Co. said it was taking "Project Runway" to Lifetime in an agreement that Weinstein Co. valued at about $200 million over five years.
NBC Universal, which owns Bravo, sued Weinstein Co., run by brothers Bob and Harvey Weinstein, claiming NBC and Bravo had the right of first refusal for future episodes and any spin-offs.
Lifetime Networks, which targets women and is owned by Hearst Corp and The Walt Disney Co., then counter-sued in November, creating a legal entanglement that potentially threatened to derail the show altogether.
"NBC Universal, The Weinstein Company and Lifetime have resolved their disputes. The Weinstein Company will pay NBCU for the right to move Project Runway to Lifetime," said NBC Universal, the media wing of General Electric Co, in a statement on Wednesday.
The amount of the payment was not disclosed.
"We're thrilled to be launching our relationship with Lifetime with this groundbreaking cable deal that includes the next five years of 'Project Runway,'" Harvey Weinstein said in a statement.
Andrea Wong, president and chief executive of Lifetime Networks, said the sixth season of "Project Runway," hosted by supermodel Heidi Klum, would air this summer.
(Reporting by Michelle Nichols; Editing by Eric Walsh)
© Thomson Reuters 2023 All rights reserved.