Couture not a crime at Singapore prison
By Candida Ng
SINGAPORE (Reuters Life!) - Fashion police on the prowl for the latest trends were held captive at a Singapore prison recently when it housed couture instead of inmates.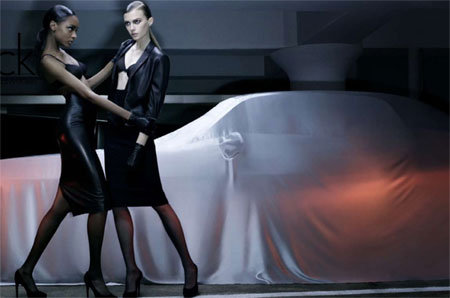 Calvin Klein ck - Photo: www.calvinkleininc.com/ck
Queenstown Remand Prison, which was decommissioned last year, was the site of the world preview of the ck
Calvin Klein
Spring 2010 collection, which featured the brand's signature clean lines, drawing comparisons from many guests to the stark linear layout of the jail.
"I think the clothing looks like it's designed for this venue," said Tom Murry, president and chief executive officer of Calvin Klein Inc.
While models togged in outfits from the collection lined up in a row between the prison cells, guests milled about the inmates' courtyard, its barbed-wire fences intact, as they listened to a DJ spin tunes from the watchtower.
"We thought what a great space to give the feeling of curiosity, intrigue, apprehension," explained Kevin Carrigan, global creative director, ck Calvin Klein.
The show was the first time a commercial event was held on the premises of the 388-cell prison, which will be torn down shortly. Its inmates were moved to another prison in August, as part of a plan to centralize all prisoners in one location.
Although most of the interior of the jail was boarded up, fashionistas were still able to peek into certain cells to watch images projected onto walls as part of an installation project linked to the clothing presentation.
The event also aimed to raise awareness of the Yellow Ribbon Project, a rehabilitation programme for former prisoners.
"The Yellow Ribbon Project is pleased to have... corporate partners to affirm their acceptance of ex-offenders and reiterate the importance of community support and action toward the successful reintegration of ex-offenders into society," said a spokesperson for the initiative.
The clothing company has pledged to donate 20 percent of all sale proceeds over two weekends in January in its Singapore stores to the project.
Approving of the unusual jail concept was Tina Wong, an ophthalmologist and guest at the show.
"If it was any other designer, it wouldn't fit. Not that you should advertise in prison, but it actually works," she said.
Billboards featuring the jail and the ck Calvin Klein line are also on display in Singapore.
(Editing by Miral Fahmy)
© Thomson Reuters 2023 All rights reserved.