Counter suit filed over "Project Runway" rights
By Christine Kearney
NEW YORK (Reuters) - The Lifetime cable TV network has counter-sued NBC Universal, Bravo and The Weinstein Company over the rights to the TV program "Project Runway" in the latest legal action that has left the hit show in limbo.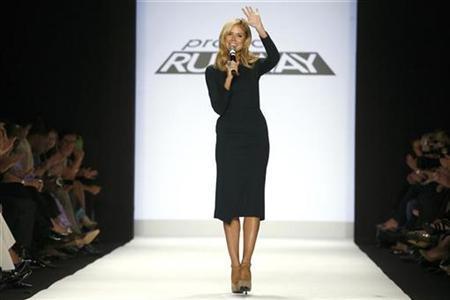 The suit, filed in federal court in Manhattan late on Tuesday, seeks exclusive rights over the fashion design contest starring model Heidi Klum that had been scheduled to jump to the Lifetime Network from its cable TV rival Bravo.
It follows similar legal action filed in New York State Supreme Court by NBC Universal, the media wing of General Electric Co and the owner of Bravo, against the producer of the series, The Weinstein Co. NBC sought to keep the show on one of its channels.
In September a state court ruling temporarily halted plans by The Weinstein Co to take its fashion program to Lifetime and prevented Lifetime from marketing or broadcasting the series until the case was decided. Lifetime now seeks to have the case permanently moved to federal court.
"Project Runway," in which contestants design new clothes each week and are judged by Klum and other fashion experts, has finished showing its fifth season and has already shot much of its sixth season.
Its popularity continues to increase and last season it averaged 4 million viewers. The first episodes of the show's sixth season will be ready to air in December, the federal lawsuit said, but without a settlement the show may not be seen for months.
Lifetime, which targets women and is owned by Hearst Corp and The Walt Disney Co., seeks a judgement saying its rights to the show trump any of those claimed by NBC. It also named The Weinstein Co as a defendant, so it would not transfer any conflicting rights to NBC.
The Weinstein Co, the studio run by Miramax Films founders Bob and Harvey Weinstein, has said it is still committed to the Lifetime deal it says was worth $200 million over five years.
The state court ruling said NBC Universal had shown, among other things, a likelihood that it might eventually prove it had a right of first refusal to re-sign the show to a new cable TV distribution contract before Weinstein reached a separate agreement with Lifetime.
While the future of "Project Runway" is pending, Bravo is moving ahead with a similar design competition show, where winners will be decided by the audience.
A lawyer for NBC Universal said she could not comment on the case. Lawyers for Lifetime and a spokesperson for The Weinstein Co were not immediately available for comment.
(Reporting by Christine Kearney, editing by Vicki Allen)
© Thomson Reuters 2022 All rights reserved.