Chico's to cut jobs, take charges in Q4
Jan 29 (Reuters) - Women's clothing retailer Chico's FAS Inc (CHS.N) said Thursday it will cut 180 positions and take up added cost-cutting measures to tackle the ongoing economic crisis that has hit retailers across the board.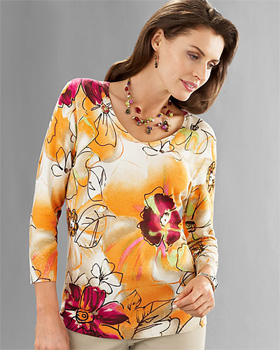 Chico's spring-summer 2009
The workforce reduction, which accounts for 11 percent of its total employee base, will lessen payroll and related benefit costs by about $15 million over the next year, the company said in a statement.
Fort Myers, Florida-based Chico's will record a charge of about $6.3 million in separation costs, including a previously disclosed CEO separation agreement.
The company named a new Chief Executive on Jan. 8, following the retirement of its previous CEO, Scott Edmonds.
Chico's, which sells traditional apparel to women aged over 40, now expects to take a goodwill-related charge of $11 million to $14 million in the next quarter.
It will also take a charge of $7.0 million to $9.0 million on some underperforming stores.
Shares of the apparel retailer closed at $4.01 Thursday on the New York Stock Exchange. (Reporting by Nivedita Bhattacharjee in Bangalore; Editing by Anil D'Silva)