Band of Outsiders' Paris marathon
"The longest show ever", this is the ambitious project by Scott Sternberg for the next men's fashion week in Paris. His men's label, Band of Outsiders is going to be found from the 27th to the 29th of June in a Parisian art gallery yet to be announced, where it will unveil its 2013 spring-summer collection as part of an original performance, staggered and very, very rigorous...at least for the label's team. Visitors, for their part, will be able to come to the gallery at the time of their choosing during the aforementioned time period to find a single model who will wear every look in the entire Band of Outsiders collection.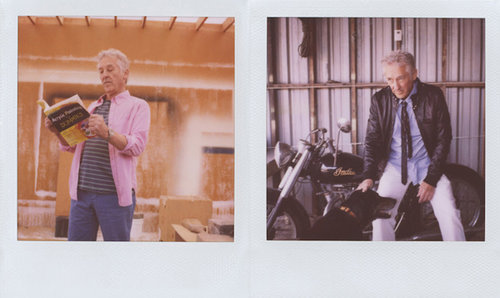 Spring-Summer 2012 campaign with the artist Ed Ruscha
The designer explains in a hilarious manifesto the "rules of the show" (sic). Among these rules, which you can find in their original version
here
, the requirement for the model of sleeping in a compartment made of cardboard and changing every 90 minutes by following the instructions of a team of stylists who will also work 60 hours straight in front of the eyes of visitors and thousands of Internet users.
The project has the advantage of making the experience of the fashion show more dynamic, despite its oft-proclaimed death by way of internet and other alleged culprits. Self-proclaimed "iconoclast" down to the name of his label, Scott Sternberg seems to borrow here as much from Marina Abramović (in terms of "extended performance art") as from Lars Von Trier (in terms of "dogma")...and to do so humorously.
Copyright © 2018 FashionNetwork.com All rights reserved.