"Project Runway" show features phantom finalists
By Christopher Michaud
NEW YORK (Reuters) - If fashion shows are staged to publicize designers, what then to make of the "Project Runway" show on Friday that presented the designs of the hit television show finalists under a veil of anonymity?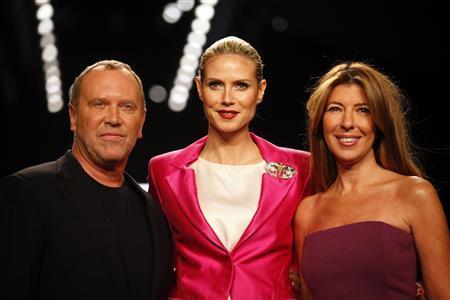 The unusual anticlimactic ending to the reality series was the unhappy result of a protracted legal battle that has kept the show's current season six from premiering.
Rather than the practice of seasons past, when the show's finalists competed at New York's Fashion Week after viewers watched them on the series for several weeks, no one has seen this season's contest.
"We're all in a little bit of a limbo," said model Heidi Klum, the show's co-creator and host. "No one has seen the show yet ... and I'm a little bit sad for our designers because they won't get the recognition."
The legal battle began when Weinstein Co., the show's producer, took the hugely popular "Project Runway" off cable network Bravo, where it had been for five years.
Weinstein sold the "Project Runway" rights to rival station Lifetime.
Bravo's owner NBC Universal filed a lawsuit, and a court ruling has barred Lifetime from showing the season, all of which was shot in Los Angeles. It is unclear if the shows will run once the legal dispute is resolved.
So on Friday, the "Project Runway" finalists showed their collections without showing their faces.
A crowd of fashion editors, buyers and fans watched as models paraded the first collection of 12 looks, by far the most casual, down the runway.
It featured oversized, cable wrap sweaters and knits atop tight black leather pants. The designer also paired short, tailored jackets with pleated pants and a lame top with a silver crepe skirt.
The next contestant showed elegant dresses in black, plum and gold, with oversized, flapping pleats, a one-shouldered gown, cape jacket and short dresses with tiers of ruffles.
The final collection put an edgy spin on classic styling with an extensive use of heavy wool, felt and black in highly structured designs.
An elegant black coat featured an oversized shawl collar, while short jackets and sweaters sported hoods. Gowns and tops were constructed of cross-woven straps, and oversized pleats were also in evidence.
"We wish we could bring out the three finalists," said Tim Gunn, who serves as mentor to the show's contestants. "We have a smashing, sensational season."
Throughout the season, typically, a contestant is eliminated at the end of each weekly show. The runway finale is taped, edited and shown on television soon afterward.
Despite all the secrecy, one of the show's judges, Nina Garcia of Marie Claire magazine, joked at the conclusion: "Of course, there's a clear winner in my mind."
© Thomson Reuters 2023 All rights reserved.