"Project Runway" final six make it work in NY
By Christopher Michaud
NEW YORK (Reuters) - The final six contestants on U.S. television's "Project Runway" showed their design collections on Friday, hoping to become the hit show's winner and someday join the professionals on the fashion show circuit.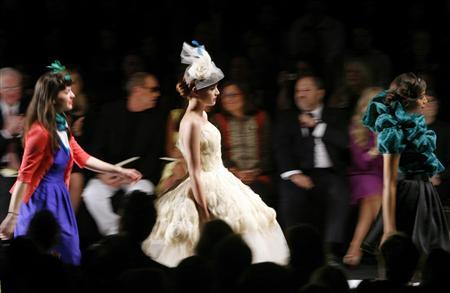 The finale on the Bravo television network was staged as part of New York's semi-annual Fashion Week and will be broadcast in mid-October. The winner gets a $100,000 prize, a new car, a fashion magazine spread and invaluable media attention.
More than 200 designers showed spring collections this week in New York in shows that concluded on Friday.
Known by their first names to "Project Runway" fans, finalists Korto, Kenley, Suede, Leanne, Jerell and Joe each showed 10 designs.
Jerell made heavy use of sequins and metallics, offset with black stripes. His looks included a chain-maille jacket over black and gold sequined trousers and glamorous high-waisted dresses and gowns.
Punk-influenced Suede showed an unexpected palette of pastel pinks and blues, with a heavy does of voluminous ruffles and flowing skirts topped with corset-style tops and vests.
Korto, a crowd favorite, created intricate quilted and pleated tops over flowing skirts and used vibrant green and turquoise along with an earthy, muted gold. A pleated dress bore the oversized sleeves she often made on the show.
Joe, who said he was showing "Americana," went with denim slacks and skirts topped with leather and denim bustiers.
Another favorite of the audience, which was sprinkled with the show's past winners and contestants, was Leanne. Her designs were almost entirely in shades of beige and gentle blues and illustrated the structured style that served her well in the season's later episodes.
Kenley's designs, inspired by "Alice in Wonderland," included giant ruffled tops and short pleated skirts in bold colors, along with youthful, feminine dresses in flowered prints and soft embroidered pink.
The fifth season of "Project Runway" marks the show's last on Bravo before moving to Lifetime television and switching locales from New York to Los Angeles.
"We had such a great run," said supermodel Heidi Klum, host of the show.
The show's weekly challenges ranged from designing a look for actress Brooke Shields to creating an outfit by recycling automobile parts.
Klum said the show's judges, designer Michael Kors and Nina Garcia, creative director of Marie Claire, would be joined in the final judging by co-host Tim Gunn.
Singer and actress Jennifer Lopez was supposed to appear as a judge but pulled out due to a foot injury.
"Project Runway," a hallmark in network Bravo's rising fortunes, has spawned a slew of successful copycat shows such as "Top Chef" and "Shear Genius."
© Thomson Reuters 2022 All rights reserved.